Interrogation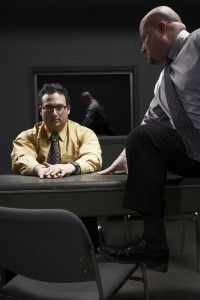 During an average career generally spanning two [2] or more decades, the average FBI agent will conduct many an interview and interrogation.  Whether the individual is a suspected bank robber caught in a hailstorm of police bullets or a politician charged with "bribery," FBI agents develop interview and interrogation skills not easily matched and/or found elsewhere. Depending upon the circumstances, some investigations have required agents to conduct an interview or an interrogation lasting 15 to 20-hours in duration … some continuing for several days.
While many suspects decline interviews—preferring instead to speak with an attorney—others because of their position and/or maybe circumstances consent to an interview and/or an interrogation—meaning many agents have years of experience conducting interviews and interrogations.
When conducting an interview and/or an interrogation, investigators should be well prepared, with a good understanding of the crime's facts and legal elements.  Since most suspects can sense when an investigator is fumbling for facts, only well-prepared agents should attempt an interview and/or an interrogation involving a suspect. Suspects need to sense an interview or interrogation will be thorough—discussing at length any alibi—otherwise the suspect will always have an eye on the door thinking just one more question and, maybe, just maybe, the interview will be over.
Because "lying" breeds distrust, investigators should resist employing the tactic.  Similarly, "bluffing" suggests agents are card players—engaged in a poker game—versus law enforcement conducting an investigation.  If a suspect discovers an investigator is "bluffing," or worse yet "lying," the discovery can easily derail the interview or interrogation causing a suspect to demand an attorney, ending the interview or interrogation.  Consequently, investigators should avoid employing the tactic.
Treating a suspect with dignity and respect will always do more to generate good will, inducing a suspect to cooperate versus shouting and/or yelling.  If a suspect cooperates, it's generally because he/she believes the agent will tell the prosecutor they were helpful.  An FBI agent who has done nothing, but lie and/or bluff in an effort to obtain a confession, generally will find their very demeanor will give a suspect a reason to "not" to cooperate … thinking they won't be treated fairly.
______________________________________________
Directory members can be extremely helpful to anyone seeking information and/or requiring a professional opinion regarding conducting an interrogation.  Looking for an expert on interrogation—visitors can use the website's search feature, entering the appropriate skill and the geographical area of preference to locate a retired FBI agent, and thereafter make contact using the information provided.
______________________________________________
Retired FBI Agents and Analysts, interested in securing a Directory listing and/or a personal email address, need only submit a brief online application to join the website.
Agents with Interrogation skillset