FBI Laboratory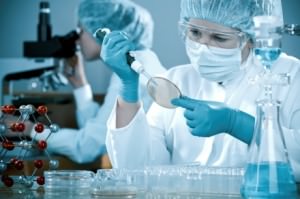 Since 1932, the FBI Laboratory has used cutting-edge science to solve cases and prevent acts of crime and terror. It is a full-service operation, with some 500 scientific experts and special agents working in a state of-the-art facility in rural Virginia, traveling the world over on assignment and providing forensic exams, technical support, expert witness testimony, and advanced training to Bureau personnel and the FBI's partners around the globe. FBI Laboratory examinations total more than one million each year supporting "not" only law enforcement's efforts, but the intelligence, military, and scientific community as well.
The FBI Laboratory has specialized units that can respond to incidents—facilitating the collection of evidence in the field. As an example, the Evidence Response Team Unit supports Evidence Response Teams in all 56 FBI field offices. The Explosive Unit specializes in evidence involving explosive and incendiary devices, and the Hazardous Evidence Response Unit provides support at scenes involving chemical, biological, radiological, and nuclear materials. The Photographic Operations and Imaging Services Unit and the Special Projects Unit can document crime scenes and collect data for use in crime scene reconstruction, courtroom exhibits and testimony, and forensic facial imaging.
Services provided by the FBI Laboratory include: Biometric Analysis, including DNA database and index systems and latent print analysis; Forensic Response, including chemical, biological, radiological, and nuclear sciences, crime scene documentation, Evidence Response Team, hazardous evidence response, operational projects and scientific response; Forensic Science Support, including evidence control and forensic imaging; Scientific Analysis, including chemistry, counterterrorism & forensic science research, cryptanalysis & racketeering, firearms/tool marks, questioned documents and trace evidence; and the Terrorist Explosive Device Analytical Center (TEDAC) concerning explosives.
The mission of the FBI Laboratory has been defined as: protecting the United States from terrorist attack and foreign intelligence activity; combating criminal activity that threatens the safety and security of society; preserving civil liberties; and providing leadership, intelligence, and law enforcement assistance to the FBI's local, state and international partners.
______________________________________________
Directory members can be extremely helpful to anyone seeking information and/or requiring a professional opinion concerning investigations involving the FBI Laboratory. Accordingly, looking for an expert concerning investigations involving the FBI Laboratory—please draw upon the website's search feature, entering the appropriate skill, issue, or need as well as the geographical area of preference to make contact with an FBI specialist.
______________________________________________
Retired FBI Agents and Analysts whose background includes the FBI Laboratory, interested in securing a Directory listing and/or a personal email address, need only submit a brief online application to join the website.
Agents with FBI Laboratory skillset