FBI Training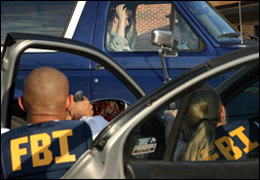 Special Agents begin their FBI career, receiving twenty [20] weeks of intensive training at the FBI Training Academy in Quantico, Virginia—considered by many to be one of the world's finest law enforcement facilities.
During their time at the FBI Academy, new agents live on campus and participate in a variety of FBI Training activities. Classroom hours are spent studying a wide variety of academic and investigative subjects, including the fundamentals of law, behavioral science, report writing, forensic science, and basic and advanced investigative, interviewing, and intelligence techniques. Students also learn the intricacies of counterterrorism, counterintelligence, weapons of mass destruction, cybercrime, and criminal investigations to prepare them for their career path.
The curriculum also includes intensive FBI Training in physical fitness, defensive tactics, practical application exercises, and the use of firearms. During the course of their career, agents are also updated on the latest developments in the intelligence and law enforcement community through FBI Training opportunities provided by field police instructors.
The Bureau also offers college-level FBI Training opportunities to mid-level state, local, and international police officers. Founded in 1935, the FBI National Academy is located in the same facility as the FBI Academy in Quantico, Virginia. As part of the FBI's Field Police Training Program, qualified Bureau police instructors provide FBI Training at local, county, and state law enforcement facilities to improve the investigative, managerial, administrative, and technical skills of local officers.  The FBI Training program strengthens the cooperative effort between the Bureau and local agencies in protecting the public.
______________________________________________
Directory members can be extremely helpful to anyone seeking information and/or requiring a professional opinion concerning FBI Training techniques.  Looking for an expert, just visit website and conduct search, entering the appropriate skill, as well as the geographical area of preference to make contact with an FBI specialist.
______________________________________________
Retired FBI Agents and Analysts, interested in securing a Directory listing and/or a personal email address, need only submit a brief online application to join the website.
Agents with FBI Training skillset