FBI Fraud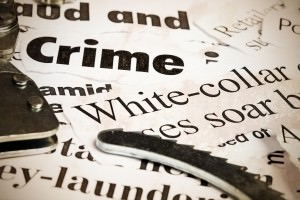 During J. Edgar Hoover's tenure as FBI Director, individuals suspected of fraud were generally prosecuted by the Justice Department using the Mail and/or Wire Fraud Statutes, Title 18, Unites States Code [USC], Sections 1341, and 1343.[1]  Accordingly, members whose background also includes FBI Fraud can be a great asset to someone looking for an investigator and/or needing an expert conducting a fraud investigation.
Prosecuting someone using the fraud statutes, the Justice Department must prove that mail or wire communications were used in furtherance of the scheme to defraud, material misrepresentations were made, and the individual had the intent to steal money or property.
Applying the mail fraud statue it simply states anyone who "… places in any post office … or causes to be delivered by mail … any … matter" for the purposes of executing a fraud scheme can be prosecuted.[2] And likewise, the wire fraud statute states anyone who "transmits or causes to be transmitted by wire, radio, or television communication, in interstate or foreign commerce … writings … for the purpose executing [a] … [fraud] scheme or artifice [to defraud]," can be prosecuted.[3]
The mailing or wire communications must be made in furtherance of the fraud scheme, but "not" necessarily essential to the statutes' elements, as long as they were made "incidental to an essential element of the scheme."[4] Prosecutors can use mailings or communications designed simply "to lull a victim into a false sense of security, postpone an inquiry or complaint, and/or make the transaction less suspect."[5]  And it's enough for prosecutors to bring charges that the mailings and/or transmissions were a reasonable foreseeable consequence of the fraud scheme.[6]
Because Congress wanted to prohibit a wide range of fraud schemes, the mail and wire fraud statutes prohibit both schemes, or obtaining money or property by means of false or fraudulent pretenses, representations, or promises,[7] and later under the Honest Services Fraud Statute [Title 18, United States Code (USC), 1346] any scheme depriving another of the right to honest services.[8]
Demonstrating fraudulent intent, prosecutors must prove a person acted "willfully," wanting to cheat or deceive someone.[9] A defendant who can produce evidence suggesting he/she acted in good faith and/or believed their deceptive statements can result in prosecutors deciding against filing charges, and in a jury trial … a direct verdict of acquittal.[10]  A defendant who blinded themselves from the truth does "not" have the same legal defense.[11]  And evidence suggesting a defendant thought someone might ultimately profit or "not" be harmed in a fraud scheme is "not" a valid defense.[12]
______________________________________________
Members who have listed FBI Fraud as a skillset can be extremely helpful to law firms, security professionals and journalists needing an investigator to conduct a criminal or civil probe, an expert to render a professional opinion and/or someone to provide media commentary.  Asked to review evidence, members listing FBI Fraud can also analyze documents, provide testimony and/or produce an affidavit documenting facts.  Besides the FBI Fraud skillset, these members also have important organizational, reporting and interviewing skills, needed to conduct an investigation and/or collect evidence.
Worried about fictitious and/or stolen identities, members listing FBI Fraud in their profiles can readily provide insight and suggestions, enhancing a security plan.  Listing FBI Fraud as a skillset these members are indicating they have training, expertise and contacts, including many different local, state and federal agencies—to investigate fraud.
Likewise, members who have listed FBI Fraud as a skillset can often be helpful to journalists, looking for commentary, wanting to write an article or produce a story concerning individuals charged with a fraudulent scheme.  Members with FBI Fraud as an expertise can often identify individuals with information, useful to enhance and/or document a story.  And many FBI Fraud members also have media experience, working with print, television and radio news mediums, providing commentary for in-depth stories and sound bites when asked.
Looking for an FBI Fraud—visitors need only use the website's search feature, entering the appropriate skill, as well as the geographical area of preference to make contact with an FBI Fraud using the information provided.
______________________________________________
Retired FBI Agents and Analysts, interested in securing a Directory listing and/or a personal email address who have a background that includes FBI Fraud, need only submit a brief online application to join the website.
NOTES:
[1] Information contained herein concerning the Mail and Wire Fraud statutes was taken from research paper done by the Congressional Research Service captioned, "Mail and Wire Fraud: A Brief Overview of Federal criminal Law," by CHARLES DOYLE, dated July 21, 2011.
[2] Title 18, United States Code [USC], Section 1341.
[3] Title 18, United States Code [USC], Section 1343.
[4] Schmuck v. United States, 489 U.S. 705, 712 (1989), quoting, Pereira v. United States, 347 U.S. 1, 8 (1954); United States v. Washington, 634 F.3d 1183-184 (10th Cir. 2011); United States v. Dowl, 619 F.3d 494, 499 (5th Cir. 2010).
[5] United States v. Lane, 474 U.S. 438, 451-52 (1986), quoting, United States v. Maze, 414 U.S. 395; 403 (1974); United States v. Faulkenberry, 614 F.3d 573, 582 (6th Cir. 2010); United States v. Phipps, 595 F.3d 243, 246-47 (5th Cir. 2010).
[6] 7 Pereira v. United States, 347 U.S. at 8-9 ("Where one does an act with knowledge that the use of the mails will follow in the ordinary course of business, or where such use can reasonably be foreseen, even though not actually intended, then he 'causes' the mails to be used"); United States v. Dooley, 578 F.2d 582, 588 (7th Cir. 2009); United States v. Weiss, 630 F.3d 1263, 1269-270 (10th Cir. 2010); United States v. Green, 592 F.3d 1057, 1069-70 (9th Cir. 2010).
[7] Neder v. United States, 527 U.S. 1, 20 (1999).
[8] Title 18 U.S.C. 1346.
[9] United States v. Howard, 619 F.3d 723, 727 (7th Cir. 2010); United States v. Phipps, 595 F.3d 243, (2010)("Mail and wire fraud are both specific intent crimes that require the Government to prove that a defendant knew the scheme involved false representations"); United States v. Stalnaker, 571 F.3d 428, 436 (5th Cir. 2009).
[10] United States v. Coughlin, 610 F.3d 89, 98 (D.C.Cir. 2010); cf., United States v. Maxwell, 579 F.3d 1282, 1301 (11th Cir. 2009)("[A]n intent to defraud is not present if the defendant knew that he could not deceive the recipient of his statements").
[11]United States v. Alston-Graves, 435 F.3d 331, 336-38 (D.C.Cir. 2006); United States v. Ramirez, 574 F.3d 869, 876- 77 (7th Cir. 2009); United States v. Clay, 618 F.3d 946, 953 (8th Cir. 2010).
[12] United States v. Hamilton, 499 F.3d 734, 736-37 (7th Cir. 2007); United States v. Chavis, 461 F.3d 1201, 1209 (10th Cir. 2006)("A defendant's honest belief that a venture will ultimately succeed does not constitute good faith if, in carrying out the plan, he knowingly uses false representations or pretenses with intent to deceive").
Also see pamphlet titled, "TODAY's FBI:  Facts and Figures 2013-2014," issued by the FBI.
Agents with FBI Fraud skillset