Serial Rapists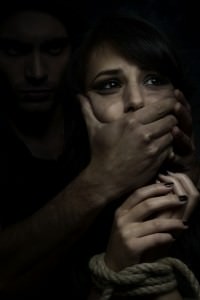 Conducting a study concerning serial rapists, the FBI's Behavioral Science Unit interviewed 41 men responsible for raping 837 victims. Publishing the results of their study in a work captioned, "The Criminal Behavior of the Serial Rapist," authors Robert Hazelwood and Janet Warren cautioned readers the information was "not" intended to apply to all serial rapists, but rather—only those men who were interviewed. Yet, as expected, the information provides interesting details which can be used by law enforcement to identify and prosecute serial rapists living within a community.
Characterizing the sexual attacks, the authors said a majority of the assaults were "premeditated," which in their opinion reflected a preferential interest by the serial rapists to commit the crime, and later avoid detection. Selecting a target, the study said serial rapists used three [3] distinct styles approaching women, namely: 1.] the "con," 2.] the "blitz," and 3.] the "surprise." Adding each represented a different method used—targeting, contacting and restraining a victim.
In the first instance, the authors cited "subterfuge" and the ability to "interact with women," as key factors enabling the individual to commit the crime. As an example, the study mentioned a man posing as a plainclothes policeman, stopping women at night in their vehicle and once convinced their registration had expired—taking them back to his vehicle and assaulting them. Other examples included hitchhikers or bar hoppers, situations serial rapists can seize, but also require social skills before an assault can be made.
In contrast, employing the "blitz" approach, the authors said some serial rapists simply use brute force subduing a victim—sometimes relying on a mechanical or chemical means to gain control. While other more sophisticated serial rapists use stealth and surveillance, "surprising" a person at home—having planned the attack.
_______________________________________________
Directory members can be extremely helpful to anyone seeking information and/or requiring a professional opinion on serial rapists. Looking for an expert—visitors need only use the website's search feature, entering the appropriate skill and geographical area of preference to identify an FBI specialist and thereafter make contact using the information provided.
______________________________________________
Retired FBI Agents and Analysts interested in securing a Directory listing and/or a personal email address need only submit a brief online application to join the website.
Agents with Serial Rapists skillset