Interview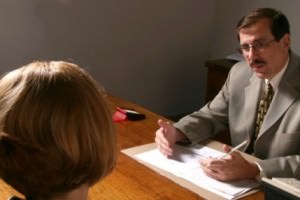 Conduct an interview or interrogate?  Is there a difference?  Absolutely. Differences include whether someone is a witness to a crime or the subject of an investigation, and maybe under arrest; hence, an investigator might want to conduct an interrogation versus an interview.  But here in the United States, a person has a constitutional right to speak with an attorney and "not" answer questions, so agents are more inclined to conduct interviews versus try to interrogate.
Conducting an interview investigators will generally use a more cordial tone of conversation, permitting a person to feel more comfortable both physically and psychologically.  On the other hand, whenever a person is questioned while under arrest, the interview is clearly an interrogation.  While the techniques are distinct for each approach, both are focused on getting information and evaluating truthfulness.
Responding to an incident report, police are generally more aggressive trying to help a victim and/or identify and arrest a fleeing suspect.  But seeking information for use by investigators, police must also develop important strategies that tend to elicit information versus intimidate and annoy someone, since a person can always decline to provide information and/or demand to speak with an attorney—halting an interview.
And conducting an interrogation or interview, investigators need to make sure they don't divulge information, since any suspect will try to discover what law enforcement knows.  And bluffing … not having answers … investigators will discover "not" being prepared for an interview, suspects are quick to discern what investigators know or don't know.  So with an eye on the clock, thinking just one more question and maybe an interview and/or interrogation might be over, suspects, in particular career criminals learn quickly to play rope-a dope with authorities, providing one foolish answer after another, lest they be confronted by an investigator with a command of the facts and told … time was not a problem.
______________________________________________
Directory members can be extremely helpful to anyone seeking information and/or requiring a professional opinion concerning the interview process.  Looking for an expert or an investigator—visitors can use the website's search feature, entering the appropriate skill and the geographical area of preference to locate a retired FBI agent, and thereafter make contact, using the information provided.
______________________________________________
Retired FBI Agents and Analysts, interested in securing a Directory listing and/or a personal email address need only submit an brief online application to join the website.
Agents with Interview skillset