RICO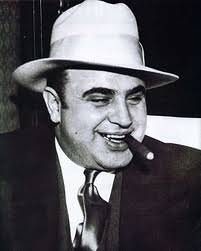 Enacted as part of the Organized Crime Control Act of 1970, the Racketeer Influenced and Corrupt Organizations Statute, commonly called, "RICO," capped a 10-year effort by the Justice Department to get the tools needed to combat Organized Crime.  Prior to the law's enactment, the Justice Department didn't have the ability to prosecute criminal organizations, but rather prosecuted cases only charging individuals, with multi-defendant cases charged as co-conspirators.
During World War II, the FBI was more interested in catching spies and identifying members of the Communist Party than pursuing crime.  But that changed in 1957 when authorities discovered mobsters had convened a summit meeting in Appalachian, New York attended by Mafiosi figures, including JOSEPH BONANNO, CARLO GAMBINO, VITO GENOVESE, JOSEPH PROFACE, SANTOS TRAFICANTE and fifty-seven [57] other known professional hoodlums.  Because the summit suggested Mafia leaders were gearing up for increased unlawful activity, Justice Department officials realized they needed to intensify efforts to identify and prosecute crime figures, targeting crime organizations and their financial assets.
Described as the Justice Department's best weapon against Organized Crime, RICO enables authorities to prosecute felons committing multiple felonies as a criminal enterprise—versus charging a lone individual with a felony and/or a group of individuals as co-conspirators.  When two [2] or more predicated crimes which are also state felonies are committed by the same individual and/or individuals in a ten [10]-year period, the RICO statute states the "bad actors" can be prosecuted as a criminal enterprise.  Enabling prosecutors to use state violations charging mobsters in a RICO indictment—makes it a powerful tool for agents and prosecutors alike.  RICO also gives Justice Department officials the ability to seize assets and levy criminal and civil fines—taking the profit out of crime.
Criminal justice wonks and crime experts hail the Justice Department's ten [10]-year effort combating crime families, beginning in 1961 with ROBERT KENNEDY's efforts, targeting bookmaking operations and using interstate facilities in violation of the Federal Wire and Travel Acts and the Wagering Act [Title 18, United States Code (USC), Sections 1084, 1952, and 1953].  And later in 1968, continuing with the Omnibus Crime Control and Safe Streets Act [Title 18, USC, Sections 2510 thru 2522], when NIXON officials became convinced prosecutors needed court authorized wiretaps and microphones to collect evidence.  But it was not until Congress passed the RICO statute [Title 18, USC, Sections 1961 thru 1968] enacted in 1970, did Justice Department officials realize/get the full array of legal tools they needed to disrupt and dismantle crime families—sending the message mobsters will "not" be tolerated, but prosecuted whenever law enforcement finds them.
______________________________________________
Directory members can be extremely helpful to anyone seeking information and/or requiring a professional opinion on the RICO statute.  Looking for an RICO expert and/or an investigator—visitors can use the website's search feature, entering the appropriate skill and the geographical area of preference to locate a retired FBI agent, and thereafter make contact, using the information provided.
______________________________________________
Retired FBI Agents and Analysts, interested in securing a Directory listing and/or a personal email address, need only submit a brief online application to join website.
[NOTE: For additional information concerning the RICO statute, interested parties should review Title 18, United States Code, Sections 1961 thru 1968.]
Agents with RICO skillset