Kidnapping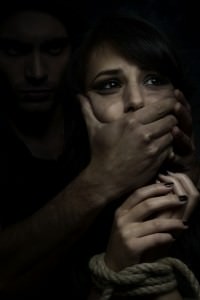 The notorious Lindbergh kidnapping in 1932 has long resonated with the public, painting the crime as a singular, somewhat infrequent but dramatic event.  Contrary to the public's perceptions, however, approximately 250,000 child abductions occur every year, most by family members as a result of a bad divorce or family breakup and only but a few hundred cases are characterized as a stereotypical kidnapping.  During the time when J. EDGAR HOOVER was FBI Director, minus exigent circumstances, neither the FBI nor the Justice Department considered a child abduction by a family member a criminal violation, but rather a civil matter to be handled by the family court system.  A 'stereotypical kidnapping' is an abduction with the unlawful intent to seize, detain and carry away by force a person with whom a ransom demand is generally made.
Conducting a kidnapping investigation, FBI Special Agents typically work with Crisis Management Team [CMT] and/or local authorities:
To locate and recover a victim, assessing the overall risk to affected persons, family and/or an organization;
Develop a response strategy, including options and possible consequences;
Analyze strategies employed by the perpetrator(s), providing advice, counter strategies and tactics to locate/recover the victim.
Assist CMT and/or local authorities to locate and recover the victim, and have a planned response;
Initiate/monitor negotiations with any perpetrator(s), ensuring all issues are properly addressed;
Advise/coach when appropriate, persons communicating on behalf of the kidnapping victim, family and/or organization;
With the approval of an Incident Commander [IC] speak with the victim's family, explaining the characteristics and course of the investigation;
Provide advice and insight;
Speak on behalf of an organization; and/or
Coordinate media notifications/press conferences.
______________________________________________
Need information and/or a professional opinion, members with a background conducting a kidnapping investigations can be extremely helpful.  Looking for an expert on kidnapping investigations—visit website and conduct search feature, entering the appropriate skill, issue, or need, i.e. kidnapping, as well as the geographical area of preference to make contact with an FBI specialist.
______________________________________________
Retired FBI Agents and Analysts interested in securing a Directory listing and/or a personal email address, need only submit a brief online application requesting website membership.
Agents with Kidnapping skillset