March 27, 2015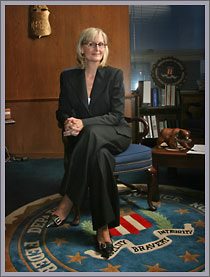 SACRAMENTO–Speaker / Author LaRAE QUY joins Https://FBIretired.com.  A former Bureau counterintelligence and undercover agent, QUY is a powerful speaker who teaches that mental toughness is a quality a person develops through life's experiences and work and "not" something an individual is born with or inherits.  Not unlike an athlete who visits the gym to increase physical strength and build endurance—adding more weights and running more miles—she says mental toughness is secured attacking a problem … again and again … using analysis and repetition to overcome obstacles and eliminate self-imposed barriers.  She says individuals with mental toughness embrace failure so they can learn from it.
Born on a cattle ranch in Wyoming, she completed graduate studies at Arizona State University joining the FBI in 1983.  Working National Security matters assigned to the San Francisco Division, she retired in 2006.  Following retirement she completed graduate studies at the San Francisco Theological Seminary.
Aside from her duties as a counterintelligence and undercover agent, she was also the spokesperson for the FBI's San Francisco Division.  The additional duties enhanced her ability to be an effective communicator—educating people about mental toughness.  Working in male dominated environment, she developed skills which she maintains has application for anyone seeking success … but which can be particularly useful for individuals whose occupation concerns risk, uncertainty and deception.   Exposed to the everyday world of identifying spies and recruiting double agents, she maintains enabled her to develop the will power and determination necessary to become mentally tough … adding tenacity, persistence and positive thinking were also equally important pursuing individuals stealing U.S. secrets.
Director of the Mental Toughness Center, QUY has authored book titled, "Secrets of A Strong Mind, Mental Toughness for Women Leaders: 52 Tips To Recognize and Utilize Your Greatest Strengths."[1]
[1] Information contained herein was taken from LaRAE QUY's personal website at Http://www.LaRaeQuy.com.