January 17, 2016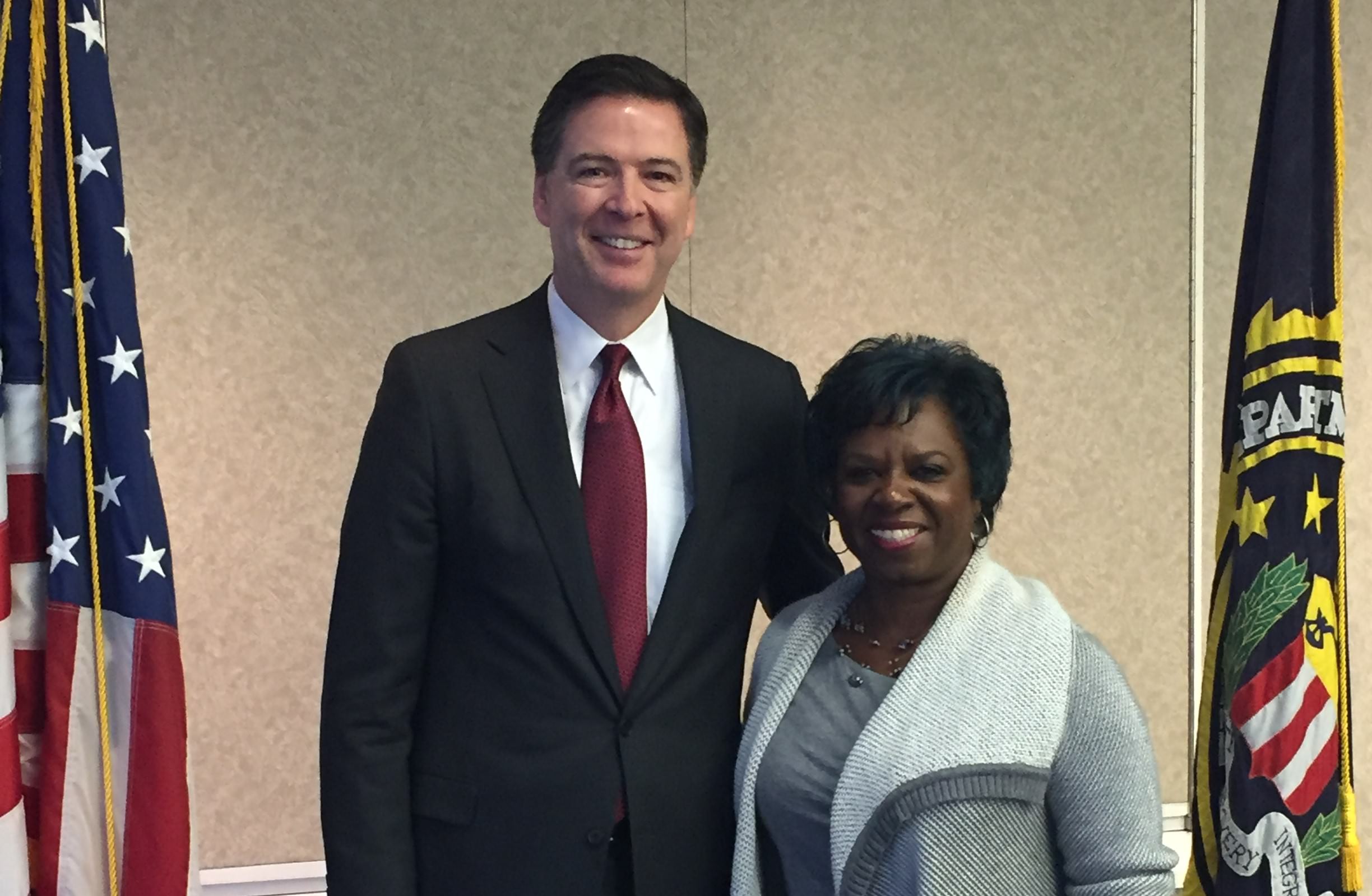 PHILADELPHIA–The Director of the FBI was in town last week and asked the Philadelphia FBI Office to arrange for him to meet and speak with me. Well…actually Director Comey extended the invitation to all retired FBI agents in the area, but I believe if he knew what a fan girl I am he would have asked for me specifically. The session with him was an intimate gathering of less than fifty of my former agent colleagues, men and women I had worked with during my more than 20 years in the Philly division. I sat in the front row with my pad and pen and took copious notes.
This was my first time meeting the Director in person. His personable and genuine nature came through immediately. Among the small group of retirees was an obvious interloper. One of the retired agents had gotten permission to bring his son, a sophomore in college who wants to be an FBI agent when he grows up. Before officially addressing the group, Director Comey spoke to this young man and told a funny story about his own son wanting to join the FBI one day and hoping that his father wouldn't ruin his chances.
That conversation was a natural segue for the Director to give an update on hiring. In 2016, the FBI will attempt to bring on 6,000 new employees to fill the hiring hole created by years of budget cuts. That's a huge task to find the right people for 3,500 support (translators, surveillance team members, scientists, administrative staff, etc.), 1,000 intelligence analysts, and 1,500 special agent positions. He sounded confident they could accomplish the goal and said, "We're attracting some amazing people."
I was waiting for the Q & A to ask my thoughtfully prepared questions for this post, when he mentioned the topic on his own. Or perhaps he connected with me telepathically (remember I was sitting in the front row only a few feet away). But anyway…he talked about some of the new TV shows featuring the FBI. He actually likes ABC's QUANTICO, in spite of the fact that the new agent trainees seem to be having lots and lots of sex while matriculating through the intensive 20-week-long academy (stress relief, I guess). He was pleased that QUANTICO portrays the FBI as a diverse and attractive place to work. He also likes that young people are watching the show and getting a chance to understand that, "the FBI is not something you do, but something you are."
The Director spoke about a couple of new FBI shows in the works and how he was working hand in hand with producers (among them Dick Wolf of the Law and Order franchise) to help them put forward an accurate look at today's FBI: honest, independent and competent.
He touched on some serious and sensitive topics too. The one he was most passionate about involved comments he had made regarding spikes in violent crime and outsiders' attempts to politicize the Bureau. In response to that threat he said, "over my dead body," and noted that his views were easy to reinforce because agents had no interest either in politicizing the FBI, "That's not our role." He is confident that the President continues to want an FBI Director who is "resolutely apolitical."
Director Comey shared that he is working hard to keep the FBI out of the gun laws dispute, even as the debate appears to drive up gun sales. He talked about the extraordinary burden this increase places on FBI employers running the record checks – currently an average of 3 million a month – they must conduct within the 3-day processing deadline to prevent guns from falling into the hands of criminals. He spoke fondly of the several hundred employees, mostly assigned at NICS – the National Instant Criminal Background Check System facility in Clarksburg, West Virginia – who are rallying (no time off during the holidays) to meet these demands.
I was already impressed with Director Comey when his response to a question from the audience sealed the deal. He was asked what surprised him the most about the FBI when he became the Director. His response was personal and emotional. "I was surprised at the unbelievable way we are truly a family. We surge for the nation when it is in need, but FBI employees surge for each other in ways the public would never understand."  He spoke proudly of Casey's Companion, the Philadelphia Office's charitable campaign to provide assistance to families who must bring their seriously ill children to Philadelphia for medical care.
He ended his talk by saying that he was obsessed with making sure the FBI consistently produced world class leaders from its ranks. He said all Bureau employees deserved good leadership. From where I sat and from what I heard, Director Comey is doing exactly that – providing great leadership.
Afterwards, we lined up for our photo op with him. When it was my turn, while we posed for the camera he mentioned that he had noticed me taking notes. I let him know that I had started a blog about crime fiction and the FBI. He shook my hand and thanked me for my service and my continued support of the Bureau. No exaggeration needed, this time he was speaking directly to me and I have the photo evidence to prove it.
NOTES: 
The article was written by Member/Author JERRI WILLIAMS.  To tag along on JERRI's "authorpreneurial" journey visit her website at http://jerriwilliams.com/ and "like" her FACEBOOK page at https://www.facebook.com/JerriWilliamsAuthor/ and follow her on TWITTER @JerriWilliams1
You can also visit her profile page here at https://fbiretired.com/agent/144/
JERRI WILLIAMS can be contacted at jerriwilliams@FBIretired.com