November 4, 2014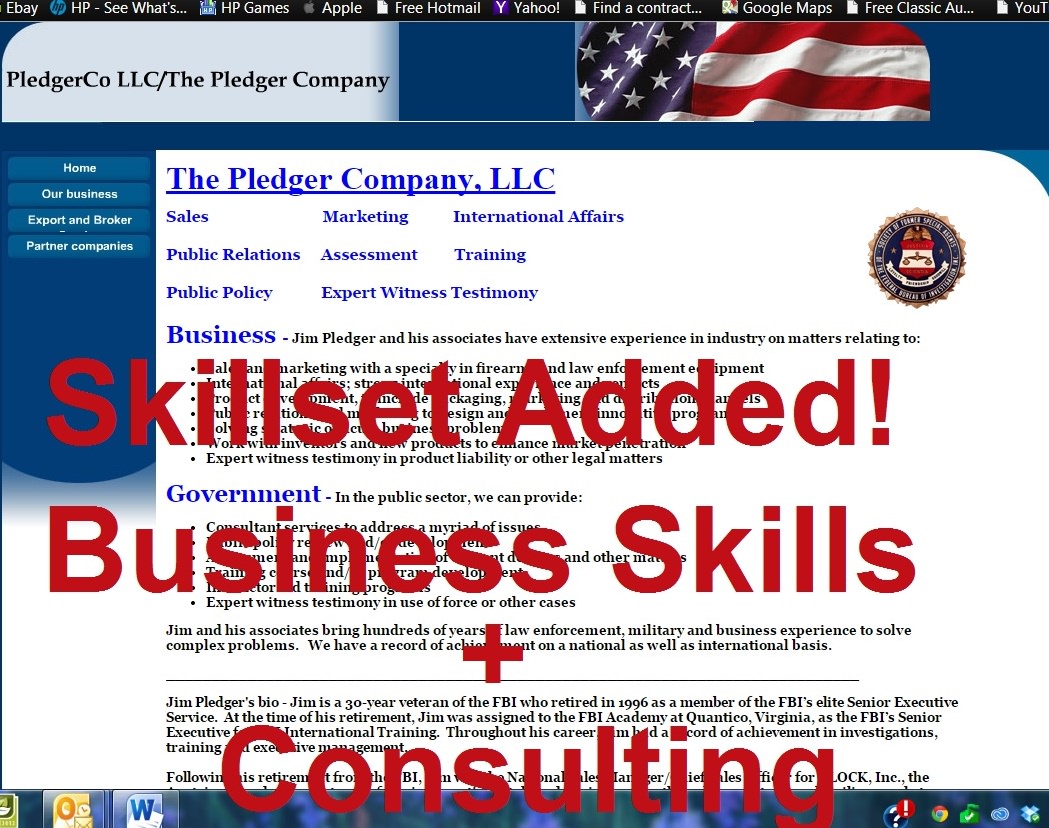 SACRAMENTO–Business Skills and Consulting have been added to the website as a new skillset for members whose services include running a company and/or starting a new business.  JIM PLEDGER, formerly a national sales manager with GLOCK INC and later a corporate officer at SIG SAUER INC said the new skillset would better define an agent employed as a corporate officer and/or someone operating a company.  Starting a consulting business in 2005 called, "The Pledger Company," Jim consults with a number of businesses involved with selling firearms and body armor as well as training, and he thought the new skillset will encourage membership.
Retiring from the FBI and pursuing a second career, some agents try to secure a position with a private company or corporation, while others—born with an entrepreneurial spirit—elect to start a new business or company—both looking for success.  Irrespective of their career choices, however, besides their obvious talent conducting investigations, these agents have learned to develop important organizational and time management skills which when combined with goal setting dexterity are important business skills.  Likewise, realizing the need to have a vision and stay organized and/or prioritize tasks, make difficult decisions, and/or construct an argument voicing an opinion—talents usually associated with good business skills—are equally important skills for law enforcement.  Whether you call these competences important business skills or proficiencies learned conducting investigations is not very important.  But what is important is developing and maintaining them for use in any career choice.
Similarly, delegating tasks, being able to speak in public, networking—building strong relationships—are "not" only important business skills, but skills needed by investigators to solve complicated fraud schemes, conduct international money laundering investigations and/or combat terrorism.  Hence, it's not surprising when someone in the business community—wanting a skilled professional—looks towards the law enforcement community for an executive to run a company or lead an effective organization.
Like any CEO running an organization, effective investigators are generally passionate individuals who learn to adapt and be flexible conducting investigations, use innovation and technology to analyze crime scenes and be respectful and considerate when collecting evidence—skills "not" only relevant to law enforcement, but the business sector as well—making them equally important business skills.
In much the same way, high profile investigations involving large amounts of money and/or numerous suspects, senior investigators will surround themselves with different, but talented folks because augmenting their skills creates the best opportunity to bring any investigation to an early successful conclusion.  Wanting good people, agents are taught to value the contributions made by associates and be civil and polite when times are tough, skills that have application "not" only in law enforcement, but the private sector as well—making them equally important good business skills.