December 14, 2014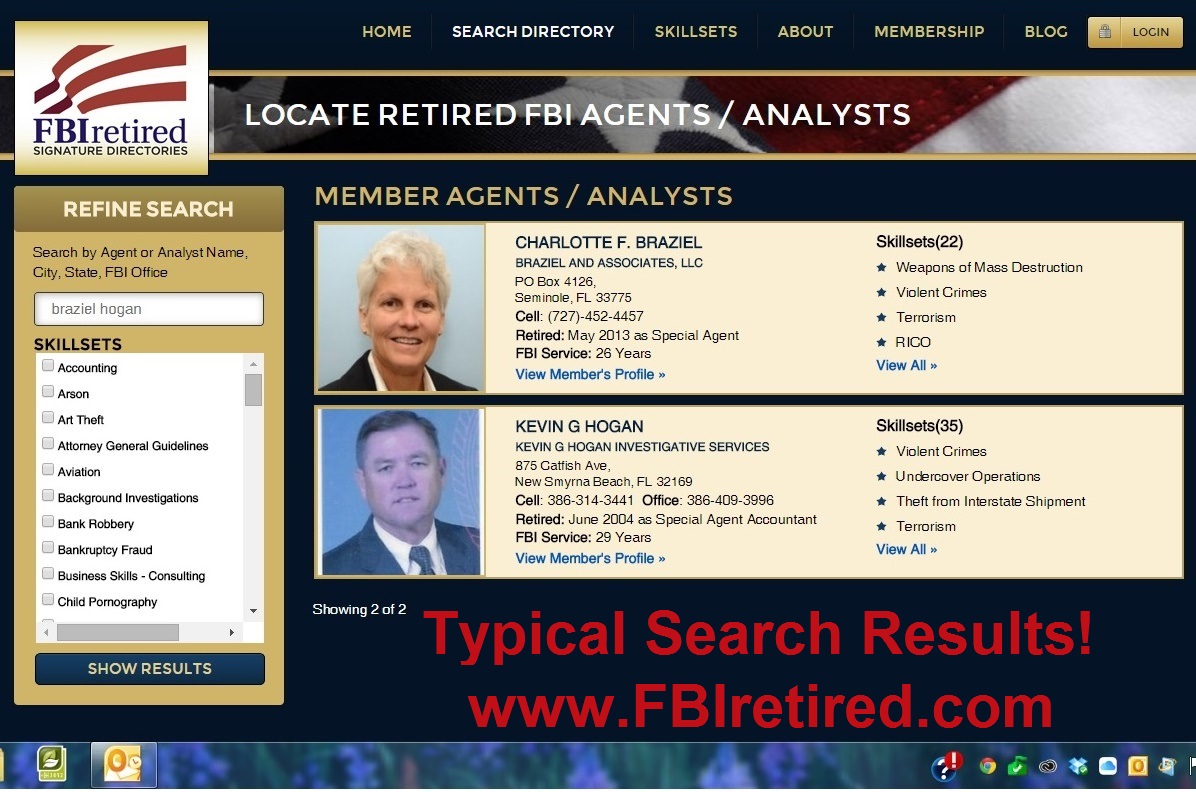 SACRAMENTO–Needing investigation in three states and Mexico, an international news organization contacted Https://FBIretired.com looking for help hiring investigators.  Calling it a corruption inspired news' piece, journalists said they needed help identifying several individuals and entities behind some complicated financial transactions and thought a "retired" FBI agent might help untangle the web.  Members interested in working on the assignment needed to be "licensed" private investigators and willing to sign a non-disclosure agreement.
Calling the website a great resource, the news outlet was able to quickly identify a member to conduct their inquiry and thought they might hire other members as well to handle leads.
Likewise, during the last two months members also provided media commentary to journalists working with The New Yorker Magazine, The Wall Street Journal, NY Times, CBS, Pittsburgh Gazette, Arizona Republic, Voice of OC, Discovery Channel, Canada TV, BBC, The Neil Cavuto Show and Envoyé Spécial, a TV-news magazine program similar to 60 MINUTES in France.
Analyzing the website for November, several members were seen enjoying multiple profile views, including PAUL WIEGARTNER, DONNIE YOUNG, ROBERT FRIEDMAN, ROBERT HECKMAN, JAMES KENNEY, JERRY HOWE, TODD HULSEY, DANNY DEFENBAUGH, PETER YACHMETZ, and JEFF BAUER in England.
Likewise, in October, profile "hits" were enjoyed by TANYA DEGENOVA, ED O'DONNELL, FRANCIS MARROCCO, ED SHAW, JACK BRENNAN, JOE PELCHER, ANDREW McCOLL, JOE DEVUONO, TIM CRINO, TOM GIBBONS, DENNY JOYCE, JIM WEDICK, PAT MURPHY, MYRON FULLER, JERRI WILLIAMS, BOBBY CHACON, HILLARY JENKINS, CHARLES WALSH, LOU GANDOLFO, and MICHAEL O'BRIEN.
Ads placed in the GRAPVINE magazine fueled membership numbers, and the website secured important Page One listings with search engines for a number of keywords, in particular "FBI, Retired, and Agent(s); FBI, Retired, and Investigator(s); and FBI, Retired, and Expert(s)."  The Skills and Member sections also generated search engine placement.
Members securing employment opportunities and/or asked to provide media commentary via the website are encouraged to share the information—sending a brief email to the webmaster [jwedick@FBIretired.com].  Posting a photograph, uploading a profile, and keeping information current are important tools for members, which can dramatically increase a member's chance their profile will be viewed, possibly contacted, and offered a contract and helps with sight recognition concerning search engines.
Members are reminded sharing "updates" promotes growth, which helps everyone, as increased membership encourages law firms, journalists and security minded professionals to bookmark the site for later use.
Responding to an attorney or a journalist using the site's email application is a great way to secure and attract new business and/or facilitate a media request to provide commentary.  Don't wait for an inquiry before you install the email address on your computer for easy use, because then it's usually too late.  Attorneys and journalists wanting assistance, usually make multiple requests looking for information, meaning the early bird gets the worm.  Need assistance installing an email address on computer for easy use, just call the website's tech support for help, at telephone number 855.273.4408.
Thinking about getting a PI license, website members are encouraged to get it sooner versus later, as it can affect employment offers.
Joining the website, members get an affordable digital platform with an email address that "not" only compliments their identity as a "retired" FBI agent, but attracts clients.  Benefits include displaying contact information and listing FBI skillsets, uploading a picture and profile and getting email address like JEHoover@FBIretired.com.  It's the only public website where law firms, journalists & security minded professionals can conduct unlimited free searches looking for "retired" FBI agent.
Tip of the Day:  Don't see any associates in your area who are members.  Join now, because your profile will automatically get any search inquiries made for that geographical area.