March 28, 2023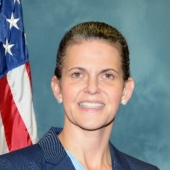 TAMPA FL – Retiring from the FBI less than a year ago, JENNIFER CORMACK, has again changed careers, joining the private sector, offering professional services as a "licensed" Private Investigator [PI] and Security Consultant.  Her new shingle reads, "JENNIFER CORMACK CONSULTING," Tampa, Florida, telephone 813-412-5230 or 813-434-3194.
A distinguished Army veteran, known for team building skills and mentoring junior officers, a trusted FBI advisor assigned to US Central Command and Special Operations Command Central, CORMACK provides "investigative" services to individuals, law firms, and/or businesses, conducting background investigations, need help locating witnesses, and/or are concerned about criminal activity, not satisfied with local law enforcement.
Swamped with motions, need help with "discovery," and/or worried about an upcoming trial, CORMACK can provide comprehensive litigation support.  A fast learner she can quickly get up to speed in any case.  Using her services, she can identify "exculpatory" material, serve subpoenas, review transcripts, help locate and/or prepare witnesses for trial, and/or per chance necessary, look for new evidence.  A jack of all trades, CORMACK's website maintains she can do it all … and her clients agree.
A Certified Fraud Examiner [CFE], an experienced White-Collar-Crime [WCC] investigator, with 20-years' experience in the FBI, "defrauded" by a conman and/or the victim in an "embezzlement" scheme, she can collect evidence, write a report, and/or provide testimony.  A confident investigator, CORMACK maintains she can handle any fraud or corruption investigation.
Threatened by a corrupt public official … the victim in an extortion scheme because some regulator or politician is demanding money in exchange for public services, she can collect evidence, documenting the threats and demands for money, and later provide same to law enforcement in a criminal prosecution, and/or an attorney seeking a civil remedy.
Looking at her website at: Https://www.jencormackconsulting.com, examining several cases, the writer has learned COMACK's efforts have been much appreciated.  As an example, concerned about security and litigation, a prominent local restaurant retained CORMACK wanting an in-depth security assessment.  Making physical observations and reviewing ongoing security practices, CORMACK quickly identified areas needing improvement, citing employee training, the lack of security cameras, and weak security protocols.  Providing a report, she identified areas needing surveillance, documented security protocols needing employee training, and developed a comprehensive security policy, which the owner seized as a means to mitigate risks and improve security.
In another case, she was retained by a plaintiff to locate a defendant, and determine what assets the person owned, available for forfeiture.   Accordingly, she conducted an in-depth online search, reviewing public records, social media, and Google Street View.  Initially, locating the defendant's spouse, cross-referencing and comparing pictures on social media, she soon was able to locate the defendant.  Her online analyses, locating the individual and identifying property, she was able to get the information the law firm needed to seek and recover assets.
Lastly, concerned children were being exposed to criminal activity, a client asked CORMACK to determine whether or not a former spouse's new girlfriend had a criminal record.  Addressing her client's concerns CORMACK searched public records and conducted a number of criminal record checks.  She also analyzed social media platforms and conducted a deep web search.  Her investigation revealed the woman had a criminal history, as did another individual with whom the woman had a relationship.  Given the information, CORMACK's client was able to update the custody agreement, mandating the girlfriend could not be present when the children were visiting their father.
A member for only a brief time, CORMACK states she thinks the website and directory have already made a difference.  Looking for Private Investigator and/or a Security Consultant, someone with a nice demeanor, CORMACK's background suggests she'd be a great choice.  Interested in making contact with CORMACK or want to learn more.  Conduct search and visit her page.